Swivel Power Bank
4000mAh swivel portable charger with A Grade Li-Po battery for your mobile phone or small device that can recharge from a USB port. Recharge most phones on the market 1+ times and tablets 40% approx. Includes USB to Micro USB cable for charging Power Bank and to charge any phone/device that has a Micro USB input. Optional 3 in 1 cable with Micro USB and other major connectors on the market available at additional cost. Can be charged up to 300 times. Takes 4-5 hours to charge. Optional EVA zippered pouch available at additional cost.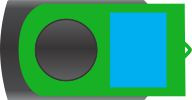 Category: Flash Drives & Power Banks
Sub Category: Power Banks
Item Size:
Power Bank – 100mmL x 54mmH x 19mmD
Box – 110mmL x 80mmH x 25mmD
Decoration Option:
4CP Digital Direct Print on Power Bank  
Top – Rectangle 30mmL x 40mmH
Laser Engraved on Power Bank  
Top – Rectangle 30mmL x 40mmH
4CP Standard Label on Box  
Box – Rectangle 71mmL x 41mmH
Packaging Info:
12 kg
46cmL x 27cmW x 19cmH (0.0236 cbm)
Standard: Individual white tuck box.
Material: Aluminium swivel, ABS body
Battery Capacity

4,000 mAh

Battery Type

Lithium-ion Polymer

Power Input

Micro USB DC+5V 1,000 mA

Power Output

USB DC+5V 1,000 mA
Colour/s: Black, Dark Blue, Green, Light Blue, Orange, Purple, Red, Silver
Minimum Qty: 25
Print
[yith_wcwl_add_to_wishlist]
Email