Medium EVA Zipper Case Low Profile 38mmH
Medium low profile EVA zipper case with mesh one side, and elastic other side. Suitable for packing one product or a range of items.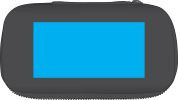 Category: Flash Drives & Power Banks
Sub Category: Power Banks
Item Size:
Approx. 155mmL x 90mmH x 38mmD
Decoration Option:
Screen Print  
Front/Back – Rectangle 100mmL x 50mmH
4CP Digital Direct Print  
Front/Back – Rectangle 60mmL x 50mmH
Screen Printing: White, Metallic Silver or Metallic Gold print recommended.
Packaging Info:
100 per carton = 8.8 kg
57cmL x 39cmW x 34cmH (0.0756 cbm)
Individual polybag
Material: EVA Case
Item Size Variance: Due to the manufacturing process, item size dimensions can vary slightly between shipments. This is unavoidable.
Colours: Black
Minimum Qty: 25
Print
[yith_wcwl_add_to_wishlist]
Email